Were you aware that RV's come with their own vocabulary? Some of the RV Slang and Acronyms crossover from other industries. But other's are unique to just the RV World.
We've put together an RV dictionary of sorts. Whether you're new to RV's or have been doing this for years, freshening up your knowledge of these terms, slang, and acronyms can help in several ways. Not only will you have a better understanding of your rig. But it will assist you in understanding blogs and forums about RV's.
10 Year Rule – rule by some RV resorts and parks indicating that you cannot use their facilities if your RV is older than 10 years
A/C – Air Conditioner
Adjustable Ball Mount – height adjustable ball at the hitch allowing the ball and tongue height to properly match between the tow vehicle and trailer
Airbag – added equipment to the suspension system of a tow vehicle or RV to act as a shock absorber
Anode Rod – usually a zinc rod used to prevent corrosion in a steel hot water tank
Arctic Package – optional package for RV's increasing insulation and adding tank heaters for an extended camping season
Auxiliary Battery – Extra Battery to run your 12-volt stuff
Awning – material (usually vinyl) attached to a metal frame along the exterior wall of the RV used as a sun or rain block
Axel Ratio – relation between the driveshaft and rear axels – has a large impact on tow ratings and capacities
Back-Up Monitor – Camera mounted to the rear of the RV with a monitor in the dashboard compartment
Ball Mount – supports the hitch ball and connects the trailer coupler
Basement – Large storage area under your RV's living area which is accessible from the outside cabinets.
BH – abbreviation for Bunkhouse
Black Water Capacity – Amount of waste water from your toilet that your black water tank can hold
Black Water Tank – Tank under the RV that holds the waste water from your toilet
BLM – abbreviation for US Bureau of Land Management
Blue Boy – portable waste water tank used to transport waste water from an RV to a dump station when the hook-up is not on site
Boondocking – a style of RV'ing with no hook-ups
Booth Dinette – Dining table with opposing benches
Brake Controller – device in the tow vehicle that applies trailer brakes at the same time the tow vehicle brakes
Breakaway Switch – safety switch that applies the trailer brakes if your trailer becomes unhitched from the tow vehicle.
BTU (British Thermal Unit) – A measurement of heat. Quantity of heat required to raise 1lb of water 1 degree. Heaters, furnaces, and RV air-conditioners are BTU rated.
Bunkhouse – RV floorplan style that has bunkbeds
Burn Ban – law, regulation, or rule indicating that you cannot have a campfire often seen in arid climates like the desert
CCC (Cargo Carrying Capacity) – max weight of personal items you can add to your RV including storage
Cab – see Cockpit
Cab-Over – see Mother's Attic
Captain's Chair – driver's seat of a motorhome
Camper Van – see Class B
Camp Side – passenger side of an RV referring to the side of your campsite designed for your outdoor activities
Caravan – term used to describe a group traveling together
Cassette Toilet – toilet with a small holding tank. popular in smaller Class B campers
Chassis – the frame your RV is built on
Chucking – movement of an unbalanced RV while traveling. Think bucking bronco.
Class A – style of drivable RV that looks like a flat nosed school bus or charter bus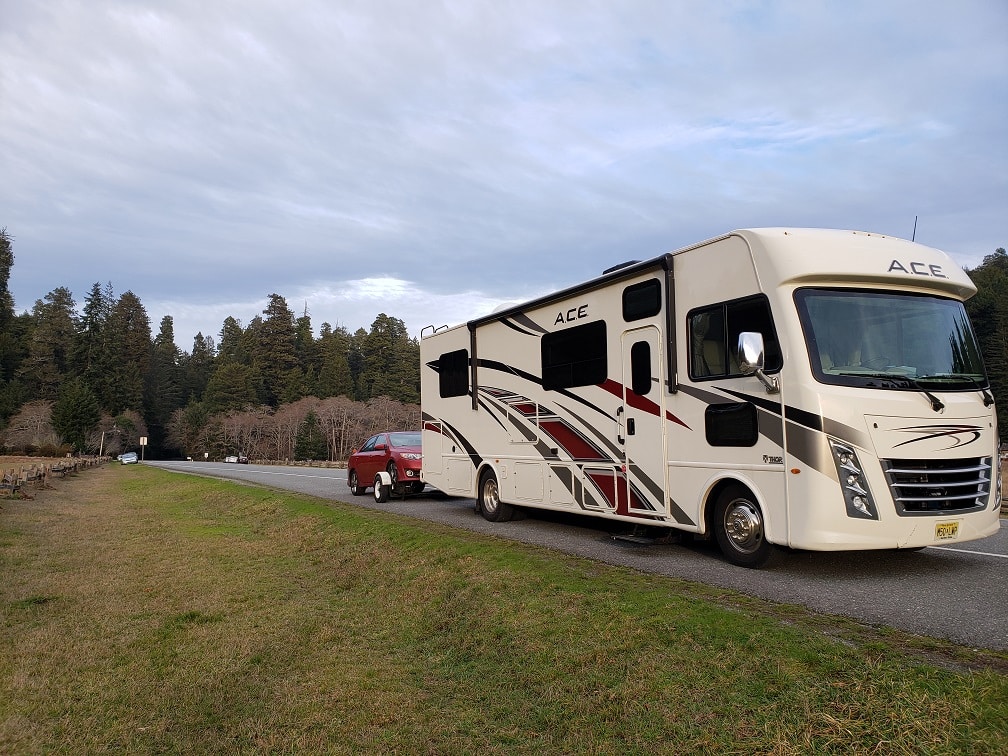 Class A Diesel Motorhome – see Class A – specifically fueled by diesel
Class B – van style motorhome
Class C – style of motorhome where the front looks like a box truck with a mother's attic
Coach – see motorhome
Cockpit – front of a motorhome where the driver and front passenger seat are located
COE – abbreviation for Army Corp of Engineers
Control Panel – panel located inside the RV where you control the RV's systems (climate, lights, power) and where your tank gauges are located
Converter – converts 120 volt AC power into 12 volt DC power
Coupler – part of the tongue or A-Frame of a travel trailer that attaches to the Ball Hitch of the tow vehicle
Diesel Puller – diesel powered motorhome with the engine located in the front
Diesel Pusher – diesel powered motorhome with the engine located in the rear
Dinghy – vehicle towed behind a motorhome
Dispersed Camping – camping on federal land usually with no hook-ups. also see Boondocking
Dry Weight – weight of the RV new from the factory. No items, water, fuel, or passenger weight
DSI Ignition (Direct Spark Ignition) – method of igniting the main burner on a propane fuel appliance
Dually – pick-up truck with 4 rear wheels
Ducted A/C – air conditioning supplied through ducts in the ceiling or throughout the RV
Ducted Heat – heat is supplied through ducts in the ceiling, floors, or throughout the RV
Dump Station – location where you can legally dump your waste water from the black and gray tanks
Electrical Connector – links the power from the tow vehicle to the trailer while traveling for such things like your lights
Enclosed Underbelly – RV where the bottom has been closed off or insulated for temperature control and/or exterior damage
Engine – provides power to your motorhome
Engine Oil Cooler – heat exchanger where engine oil is passed through to be cooled by airflow. sometimes used by trucks hauling a heavier load to prolong engine life
Equalizing Hitch – see Weight Distribution System
Extended Stay – campground that allows for extended stays often reducing the rate (monthly vs nightly site)
FB – abbreviation for Front Bath
Fifth Wheel RV – style of towable RV where the hitch is inside the bed of a pick-up truck
Fireplace – found in newer RV floorplans located in the living room works as an electric heater
Fiver – another name for a Fifth Wheel
FK – abbreviation for Front Kitchen
FL – abbreviation for Front Living
Flat-Towing – style of towing a vehicle with all 4 wheels on the ground without the use of a tow dolly
FMCA (Family Motor Coach Association) – membership club of motor coach owners
FRED – FRont Engine Diesel – see Diesel Puller
Free Standing Dinette – Dining area with chairs
Fresh Water Capacity – amount of fresh water your RV can hold
Fresh Water Tank – Tank that stores fresh water for your RV when not connected to a spigot
Front Galley – RV floorplan where the kitchen is in the front portion of the RV
Front Kitchen – same as Front Galley
Front Living – RV floorplan where the living room is in the front portion of the RV
Front Sleeping – RV floorplan where the master bedroom is located in the front portion of the RV
Fuel Type – type of fuel used for your motorhome; either gas or diesel
Full-Hookup – site that has hook-ups for your water, electric, and sewer
Full-Timer – describes a person who lives in the RV all year
Fur-Babies – term of endearment used to describe one's pets
Galley – Kitchen
Gaucho – sofa or dinette bench that converts to a sleeping area
GAWR (Gross Axel Weight Rating) – total weight allowed on each axel including the axel, tires, wheels, and brakes
GCWR (Gross Combination Weight Rating) – total allowable weight of a tow vehicle including trailer, occupants, fuel, personal items, and hitch
Generator – gas, propane, or diesel powered machine that generates 120-volt power often used by RVers when boondocking or no power pedestal is available
Genny – another term for generator
Glamping – camping in luxury, such as with the use of an RV
Gooseneck – type of hitch used on Fifth Wheel campers
Gray Water Capacity – capacity of the gray water tank
Gray Water Tank – tank that holds the waste water from your sinks and shower
GVWR (Gross Vehicle Weight Rating) – maximum weight allowed for a vehicle including chassis, body, engine, fuel, fluids, occupants, and personal items
Hard-Sided – walls of an RV made of aluminum or another hard surface
Heat Exchanger – device that transfers heat. Example: The Furnace
Height – top most point (usually an air condition unit) to bottom (ground) measurement of an RV
High Profile – RV design in Fifth Wheel campers allowing for higher than normal interior height, usually found in front living floorplans
Hitch – connection between a tow vehicle and an RV or a motorhome and a towed vehicle
Hitch Capacity – maximum towing capacity of hitch, measured in pounds
HP – abbreviation for Horsepower
Holding Tanks – tanks under an RV that hold your black waste, gray waste, and fresh water separately
Honey Pot – portable waste water tank
Honey Wagon – truck or trailer that will come to your campsite to empty your waste water tanks
Hook-Up – term referring to connecting your camper to the available amenities at a campground
Hose Bib – fresh water tap or spigot providing fresh water
House Battery – battery in an RV that powers the 12-volt electric system in your RV
HR – abbreviation for Holiday Rambler, a popular motorhome manufacturer
Hula Skirt – mud flap along the rear of an RV – sways like a hula skirt while driving giving it the name
Interior Height – floor to ceiling measurement inside the RV
Invertor – converts 12-volt DC power to 120-volt AC power
Island Queen – RV bedroom floorplan with a queen sized bed with walking room on either side
Jack-Knife – 90 degree angle at the hitch point created by poor turning of a tow vehicle with trailer
Jack-Knife Sofa – RV sofa or couch that can be opened up to create a sleeping area
King Pin Support – additional equipment for Fifth Wheel RV's that increases stability
King Pin Weight – actual weight pressing down on a fifth wheel hitch by the trailer
KOA (Kampgrounds of America) – franchise of RV parks
Laminated Walls – term referring to the exterior walls of the RV. Usually frame, Styrofoam, fiberglass sheeting, and then laminated
Length – furthest forward point to furthest rear point including bumpers and any hitch
Leveling Jacks – equipment used to level the RV on the ground when stationary
Livability Package – items available to rent to equip an RV for use instead of purchasing. Term found when renting an RV
Loft Bed – bed or sleeping area located above another room. Generally over the cockpit of a motorhome
LP Gas (Liquid Petroleum) – another name for propane
MH – abbreviation for Motorhome
Mods – RV slang for Modifications done to an RV by the owner
Moochdocking – RV term used to describe camping on someone's private property or residence often with a garden hose and 15amp power cord
Mother's Attic – area located over the driver cockpit of a Class C motorhome often used for storage or a loft bed
Motorhome – style of drivable RV
Murphy Bed – bed that is hinged on one end to fold up vertically along a wall when not in use
NADA – abbreviation for National Automotive Dealer's Association
Newbie – term referring to someone who is new to the RV world
Non-Potable Water – water that is not safe for consumption but may be used for cleaning of holding tanks
NPS – abbreviation for National Park Service
OEM – abbreviation for Original Equipment Manufacturer, such as for replacement parts
OK – abbreviation for Outside Kitchen
Park Model – specific camper type designed to be stationary
Part-Timer – term used for those that use their RV for more than the occasional vacation, but do not live in it year round
Pilot Light – small standby flame used to to light the main burner of a fuel fired appliance such as an RV stove
Pin Weight – see King Pin Weight
PO – abbreviation for Pop-Up Camper
Pop-Up Camper – most lightweight style of camper. identified by it's tent like walls when completely expanded
Porpoising – the up and down motion of a camper while driving. Like a dolphin swimming.
Potable Water – water that is safe for consumption
Primitive Camping – see boondocking, common term for tent camping
Pull-Thru – term used to describe a campsite that you can pull through instead of backing into
RB – abbreviation for Rear Bath
RE – abbreviation for Rear Entertainment
Rear Kitchen – RV floorplan where the kitchen is in the back portion of the camper
Rear Living – RV floorplan where the living area is in the back portion of the camper
Rear Sleeping – RV floorplan where the master bedroom is in the rear portion of the camper
Receiver Hitch – see Hitch
Reefer – RV slang for refrigerator that operates in 2 or 3-way operating modes (propane, 120-volt, or 12-volt)
Rig – term used to refer to a motorhome
RK – abbreviation for Rear Kitchen
RL – abbreviation for Rear Living
RV (Recreational Vehicle) – vehicle or trailer that includes amenities like cooking area, sleeping area, and living area
RVDA – abbreviation for Recreational Vehicle Dealer's Association
RVIA – abbreviation for Recreational Vehicle Industry Association
RV License – specific license some states require to drive an RV
Safety Chains – set of chains attached from the tow vehicle to the trailer close to the hitch intended to keep the trailer attached to the tow vehicle in the case of a hitch failure
Schoolie – RV term used for a school bus that has been converted into an RV
Sealed Underbelly – see Enclosed Underbelly
Self Contained – term used to describe an RV that can stay overnight with no external hook-ups
Shore Cord – electrical cord connecting the RV to Shore Power or a Generator
Shore Power – electrical connection provided at the pedestal of a campground
Site – designated area of a campground that a camper rents for use
Skylight – Plexiglass covered opening at the ceiling of an RV designed to allow natural light in. Commonly found in the shower
Sleeping Capacity – the number of spaces for sleeping in an RV. (example – dropping a dinette table to make a bed)
Slide-In – style of RV specifically designed to slide into the bed of a pick-up truck
Slide-Outs – expanding walls of an RV designed to increase the interior space
Slider – RV term for sliding hitch
Sliding Hitch – Fifth Wheel hitch designed for short bed pick-up trucks allowing them to safely tow a Fifth Wheel camper
Snowbird – term referring to a person who leaves a cooler climate in the winter to seek warmer weather during the cooler months
SS – abbreviation for Super Slide
Stick and Bricks – term used to refer to a traditional home
Stinky Slinky – RV term used to describe the waste water hose
Super Slide – term used to describe one large slide out on an RV
Sway Bar System – equipment attached at the hitch designed to reduce side to side motion of a towable RV while driving
TH – abbreviation for Toy Hauler
Theater Seating – RV seating option in the living area designed like a movie theater style seat with recliners located in front of the TV
Toad – see Dinghy
Tongue Jack – jack that is mounted on the front of a towable RV used to raise and lower the front for leveling and connecting to the tow vehicle
Tongue Weight – actual weight pressing down on the hitch ball
Tow Rating – maximum weight a tow vehicle can haul safely
Toy Hauler RV – style of RV distinguished by its ability to haul recreational equipment like motorcycles, bicycles, ATV's within the RV. Identified by a garage in the rear of the RV
TPMS (Tire Pressure Mounting System) – built in or after market system that monitors the condition and pressure in your tires with a monitor or alert system in the cab for the driver
Travel Trailer RV – style of towable RV identified by a hitch that attaches to the bumper of a tow vehicle
TV – abbreviation for Tow Vehicle
Umbilical Cord – wire or cord providing power from the tow vehicle to the trailer for traveling
Underbelly – bottom surface of an RV
Walkable Roof – feature on some RV's with reinforced structure that allows a person to walk on the roof
Weekenders – Term used to describe RVers that primarily use their RV on the weekends
Weekend Warrior – see Weekender
Weight Distribution System – system designed to take the weight from the tongue and distribute it to the front of the tow vehicle
Wet Bath – RV bathroom design with the shower at the top and toilet with lid at the bottom of a single room. Common in smaller RV's such as the Class B
Wheel Base – horizontal distance between the centers of the front and rear axel
Width – side to side measurement of the RV when slides are in and the vehicle is prepared for driving down the road
Winterizing – the process of getting your RV ready for colder weather
This is an ever evolving and changing list. Just like our language, there are always new terms and slang being created and added. As we hear and learn things, we will update our dictionary.
We anticipate that this list will prove helpful whether you're perusing the internet for assistance in your next project or looking to purchase an RV. If you know of anything we have left off the list, please send us an email and let us know!